Once again we got a full sleep, and said goodbyes and thankyous to our kind hosts Sally and Chuck, both longtime friends of Andy. 
We drove a couple hours North to Cleveland where we filmed a brief interview with Chef Dean at Case Western, who talked about how his knowledge and commitment to local agriculture has grown much in the last 5, 10 years. He seemed to be a chef largely driven by taste, his descriptions of preparing pork belly, about the creative aspects of creating dishes outshining his knowledge of, or connection to farms and farmers. He said he hopes to visit Miller livestock, if he has time to get out of the kitchen. Hopefully, that time will come, because being on the farm where food comes from will definitely inform what kind of food that someone will choose to buy. 
We headed to Akron Ellet HS, for a truly odd experience. Expecting the documentary to be almost wrapping up as we arrived, we found instead the FFA chapter room to be filled with dogs, birds and other animals, as well as students, community members all standing in the midst of a fully-operational dog grooming parlor. It was like being in a dream, a really weird dream. Ms. Rose explained that they have a business grooming dogs, which generates revenue for the FFA chapter. Some students were dutifully grooming pets while others helped customers, and others just relished the opportunity to pet the dogs and observe the birds and rabbits in the back room. After the initial shock, we got everyone huddled together, about 12 of us, and watched the first segment from Polyface Farms, and then the story of Richard and Mary Morris transforming their health by changing the way they ate, then changing their jobs, then changing where they lived. The kids were kind, as were the teachers, and seemed to genuinely enjoy the segments we showed. 
We hadn't eaten yet and discovered we would have to wait longer, because Oberlin was too far for us to stop. We arrived early at the beautiful environmental science building, where the screening was hosted. The crew at Bon Appetit put together a truly phenomenal spread of local food, featuring meats and vegetables. Andy and I piled our plates high, lucky to be quenching our hunger with such healthy, wonderful food.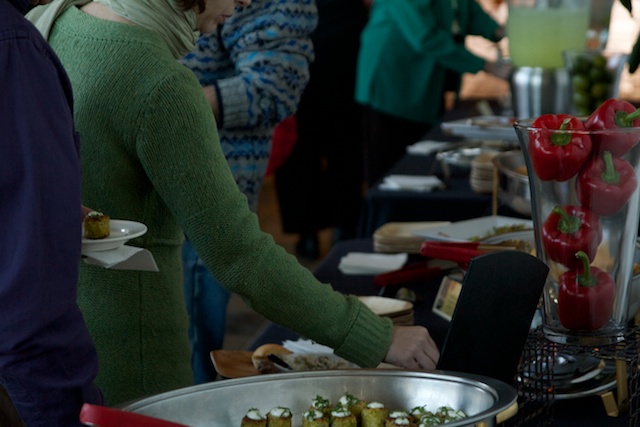 I talked to Dan, who manages some BAMCo operations in Ohio, and who was at the Case Western screening as well. He talked about the co-op at Oberlin, where students share food, cook, clean and live together in the same space. I talked to some students there, who are super excited about this new arrangement, and who want to start growing food for the co-op too. 
The panel after was great, Jon Peterson talking about how we need to change the systems completely. About how our current system only works with a lot of fossil fuels, and that a local farm system can function in a post fossil fuel world. He talked about how attitudes can shift in an entire culture, quickly, about how smoking became significantly lessened in America, because a shift happened, and that he believed that processed foods, like what's at Coca Cola and McDonalds may soon be headed for similar fates.
Eric, a nutritionist talked about how GMO foods haven't been tested much for nutrition and health effects, because scientific studies are often funded by large companies that may not want to hear and publicize the results of such studies. 
Scott, who brought his whole large, young family of farmers, told the audience where they can buy their farms' food, which included the on-campus food, as well as directly at the farm, 3 times a week.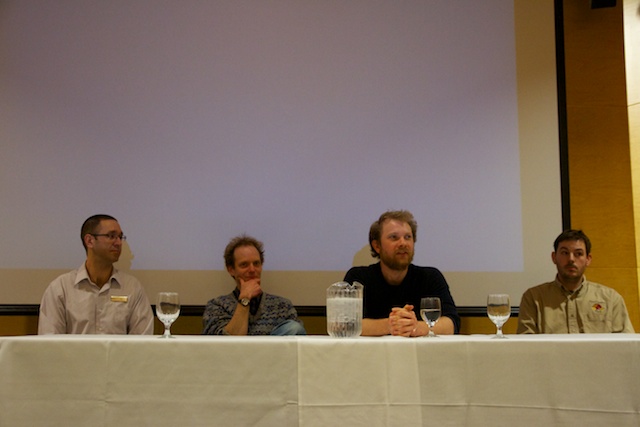 At one point, one of the students in the audience, who along with his friends are to be particularly admired for coming out on a Friday night, talked about how we all need to make a collective commitment to changing out food system. The idea really resonates. Whether it is investing in a cow-share, as Glenn, in the audience has done along with other people in his community, or investing collectively into a farm CSA, or cooking together and sharing costs, it's something we all need to do. 
Urged everyone to collectively commit to calling the senators in Ohio, so that we can put back in to the farm bill victories for local food like the Beginning Farmers and Ranchers act. And I urge all of you to call your senators, too. We need to support legislation that will support our local farmers. Please go to National Sustainable Agriculture Coalition sustainableagriculture.net and they'll give more information about what to say and who to call. 
This whole movement that's taking place is really going to be a group effort, we're all going to work together to make ourselves and our environment healthier. 
Do you like this post?