We woke up in a motel near Monroe City and headed out to the Crowe family farm. 
Adair greeted us and we met his father, Keith soon after. 
As Andy got the gear prepped, we talked about the chores of the morning, and what we would shoot, and when. 
Adair Crowe. (Photo Andy Trimbach)
Adair is soft spoken with a full dark beard, and a measured calm. We hopped on the back of the ATV and it got colder as the speed picked up with the wind. A black dog ran along side the vehicle, barking and excited for another day on the farm. 
We stopped first to load up with hay, and then went along the small huts where the sows make nests for their little ones. If needed, Adair would put a fresh bale in the shelter.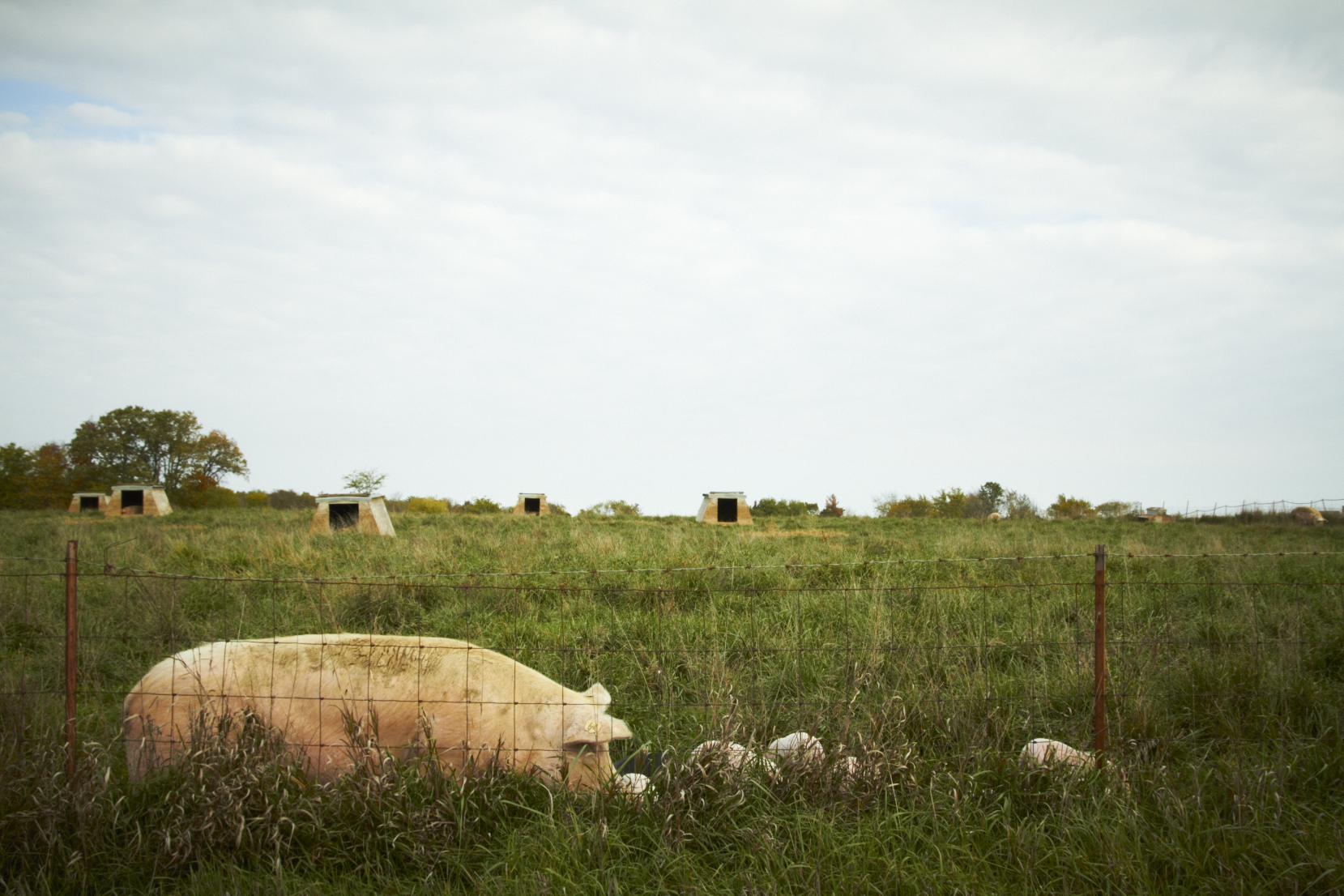 Momma Sow follows her piglets. (Photo Andy Trimbach)
Soon thereafter, we shot the interview. Adair talked about his difficulty to articulate the reason why he farmed. And yet, in his struggles to explain why he loves farming, and why he has chose to dedicate his life to farming- the very struggle of his articulation of this, made it all the more clear just how important his work is to him.  
The drought has taken a toll. The yields of corn have been very low, and the cost of feed for animals has gone way up. Hog farmers are feeling the squeeze. He's part of a collective of farmers called Niman Ranch, and they've adjusted their margins, to pay more to their farmers to help them through these lean times. You can see the gratitude in Adair's eyes. 
Before we left, Adair led us up a flight of spiral stairs to the top of a big metal silo with corn inside. Andy got towards the top, in the wind, and took some beautiful photographs of the farm from above. The wind was strong. The silo was only half full because of the drought. 
Crowe Family Farm. October 2012. (Photo Andy Trimbach) 
We headed South to Columbia and were privileged to talk with AgEd instructor and cattle raiser Chuck Miller and the FFA chapter at Hickman High School. The class of 15, had 4 students from a farm family, with one student whose family raises vegetables and sometimes sells into the farmers market. The big Homecoming rally was moments after our talk, so there may have been moments when the students attention was understandably diverted. All in all, we had a good talk, and shared ideas about our nation's agriculture, what is, and what may be. 
After some e-mails, a great dinner at Broadway Brewery and headed South to Sedalia. 
Do you like this post?