A lot of us are a bit fried, a bit behind, stressed by something. And then once in a while someone enters the picture who is miraculously unhurried, relaxed and reflective. Despite teaching 4 classes on Friday, Dr. Keith Whitworth at Texas Christian University greeted us at 11am and walked us through the purple-filled tree-lined campus towards the cafeteria, where he was kind enough to treat Andy, I, Nate and Rachel, one of his students to lunch. The campus food service is done by Sydexo, one of the larger food providers in the country. Rachel, who elected to join us, wanted to know what she could do to have a positive impact. The student community garden was suggested as a good place to start.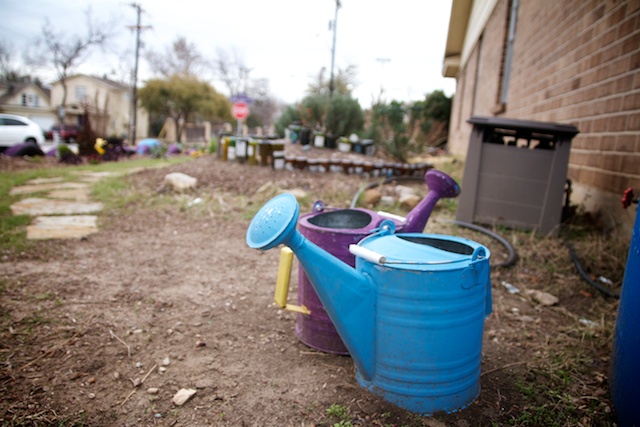 All a little on edge after hearing about the meteorites hitting Russia, we joked that the asteroid predicted to come closer to Earth than any in recorded history, would hit during our screening of American Meat. 
Met up w Claire Cummings of BAMCo, and the 5 of us took turns walking together, discussing various things like jobs, life  paths, and horned frogs, the spiky little amphibian that serves as the mascot for the university. Before the screening, Keith showed us the community garden that he had helped start, a smallish plot that's part of the church on campus. Some hearty kale and chard remained, and two massive rainwater cisterns captured all the downfall from the roof. Claire tossed her apple core in the compost bin.
We only had 50 minutes so that meant we had to skip ahead. Claire and I gave brief intros and then we showed some scenes from the beginning, middle and end of the movie. Talk about a spoiler. Students were engaged and we talked about the impact of technology on modern rural America, as well as some of the reasons that some companies are starting to look to local distribution models for a number of reasons.
Apparently the 140 in the room was a very large class for the relatively small campus of 10k. I probably talked a bit too much, but at least Claire got to get in the last word of the day. Nate from Chipotle gave out some free shirts and we were a bit surprised at how raucous the efforts to obtain these cotton garments were. Again, the mystical power of free stuff.
We said goodbye to the kind and relaxed Dr. Whitworth and to everyone else and headed back South to Austin.
Do you like this post?