Sunday was a day of rest, as it is for many. We enjoyed a ridiculously good breakfast, eggs from the hens, raw milk from the local farm Land of Milk and Honey, bacon so thick only 3 slices could fit across the plate, pancakes with organic blueberries from the Indiana farm of Peter's uncle, and all of it topped off with Ohio Maple syrup, the sap of which had been harvested and boiled down in the woods next to the house. Four helping later, breakfast concluded. 
Took the rest of day converting footage and planning the remainder of shoots for Minnesota, until a phenomenal dinner at Catherine and Jerry's, Catherine being Matthew's sister and daughter of Dave and Karen Keener. 
Monday was supposed to rain, and it did. At dawn, got up and stuck a hand out the front door out across the overhead cover of the porch, and felt enough rain to make it a bad idea to record with delicate electronic devices. 
A couple hours later, the rain stopped and we set up gear and headed over to the main Keener Farm. Matthew watered the baby chicks, which means provided water for.  They're in metal tubs with a heat lamp and covered by a big dark tarp. It's crucial they be kept warm, to minimize the amount of deaths, which are many in the first days for any form of life. 
From there, headed over to the smoker, where a side of  bacon hung in an old refrigerator looking container. In the soft rain, there was no trouble starting a fire with hickory bark and firewood, which is put in the bottom, allowed to burn a time, and then put out, to create more smoke, which in turn, cures the bacon, providing more flavor. 
From there, Matthew walked into the woods, Andy following, recording, as he checked the buckets for sap, which were full but couldn't be collected until the ground froze, and the old tractor could navigate the often muddy trails of Spring.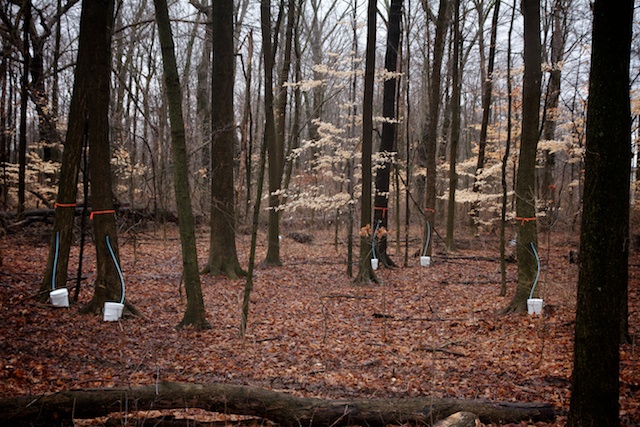 We flipped over three five-gallon buckets and filmed just inside the overhang of the barn, out of the rain, which had picked up a bit. Matthew talked about how the farm has been in the family since 1830, how he'd not thought that he'd be able to make it provide a modern living. The local food movement, this new enthusiasm of folks to know the origin of their food, has swelled, gaining momentum in the Dayton area, and Matthew, and Keener Farms is positioned to meet the growing need. They've got a growing CSA, which allows folks to buy directly from the farm, a few restaurants in Dayton, like Olive and Urban Harvest, as well as the support of Chef Isaac, who prepares the food for Antioch College. 
After the shoot, we shared another farm breakfast with the Keener family, the easy laughter as Matthew, Karen and Dave are all gifted storytellers and natural hosts. 
We edited, exercised and headed out to Wittenburg, where Ruth of Green Wittenburg hosted a screening with about 75 people, mainly students, were in attendance. 
The conversation after had a diverse range of opinions, Prof. Dave talked about the moral implications of eating meat, that the local food movement, as long as it includes meat, is an elitist movement that will set the earth on a trajectory for starvation and ruin. The film failed to communicate any of this. 
Alyssa grew up on a conventional grain farm, growing corn and soy, and talked about how subsidies help her family, and our nation's agriculture have a comparative advantage over other nations, which makes our grain be the most bountiful, and cheapest in the world. 
Matthew Keener, also on the panel talked about how thrilled he is to be farming, and about how he was happy to provide food for Antioch, the school where Dave is a professor. Our biggest challenge is figuring out how to grow in a manageable, sustainable way, he said. 
I urged everyone in the audience to contact senators, so that they can revive the provisions in the 2013 Farm Bill that support Beginning Farmers and Ranchers, Farmers Markets, and many other initiatives. 
Matthew's friend Peter had left, and another Brad had moved in. He joined us at Wittenburg, and together we drove back, sharing old rodeo stories, and some stories about horse riding too.
Do you like this post?