Thursday we started off at Plano West High School, one of 6 or so high schools in the sprawling Plano, which is in turn part of the larger and yet more sprawling Dallas/Ft. Worth area.
A couple of classrooms combined, Dyan and Robin's classes respectively, for two consecutive mid-morning classes of about 50 each. We only had 50 minutes so we showed excerpts of the documentary, the introduction, the scene outlining the 2008 hog market crash, and we ended on the solution oriented segment from Polyface.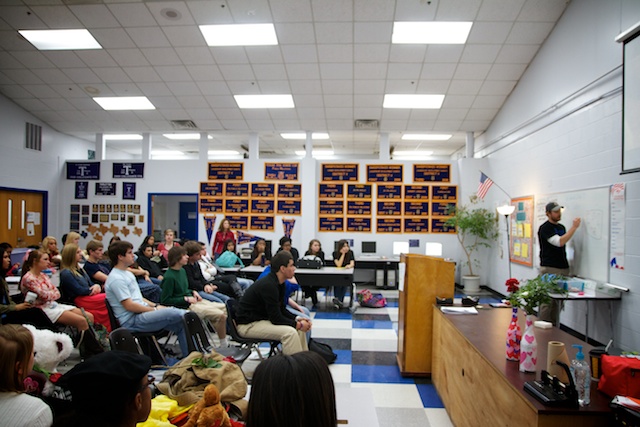 The students were respectful, watching intently and engaging in conversation following, conversation that spanned the advantages and disadvantages of conventional systems, and new grass-based local ones. Students were ecstatic to discover that they each got a burrito coupon, and even cheered at the news. The strange and haunting power of free stuff.
We said goodbyes and thankyous, and headed out to our first shoot for the Young Texas Farmers portion of the tour. The shoot was at the Lisle household, just over yonder hill from the Ft. Worth city limits. we assured the good-natured and protective father Phil, that we were pro-farmer folks, and shortly thereafter Andy began filming as Katie and her younger sister Kendall did chores in the old red barn. Chores means checking in on the hundreds of rabbits, and making sure they've got plenty of water, food, and that if there are any that didn't make it, they get cleared out. I talked with Phil as they filmed, it being midday and the sun harsh in the cloudless Texas afternoon. Phil clearly had a passion for rabbits, a passion transferred to both his daughters Katie and Kendall. 
We flipped over some empty milk crates behind the rabbit barn and started the interview. Katie, only 18, has charisma beyond her years. Her passion for raising rabbits is strong. She raises rabbits for shows, where people can win ribbons for demonstrating certain characteristics in certain breeds. Katie is so focused on winning that it is what she thinks about most when walking into the barn each day. She's headed to Tarleton State this fall and plans to start a rabbit club with ambition to replace or at least have rabbit join chicken as the other white meat. She pointed out that rabbits together mature faster than chickens, and their manure is better fertilizer than chicken manure because it isn't as acidic. She spoke of how she will raise rabbits for the rest of her life, and that she wanted to be a professional judge in 5-10 years. Both Andy and I agreed later on that we thought she would achieve her goals because of the voracity of her belief.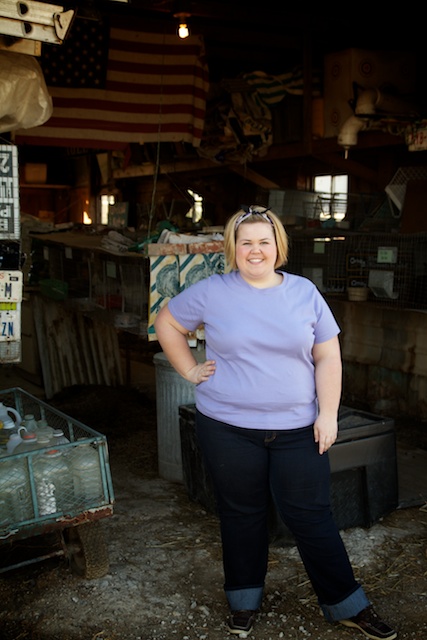 After the interview, we visited with all of the Lisle's, laughing about how when Katie was only in 4th grade she picked out the family's house, which sits across the street from the elementary school where Katie looked out and saw a for sale sign. Phil has always wanted a farm, and his better half, always been a city girl, so this home straddling the city and country with a barn full of rabbits and a pool seems like a fitting compromise.
We said goodbye and headed to a sketchy Motel 6 after eating at a good dinner spot in Ft. Worth.
Do you like this post?