We drove into Cole Camp, Missouri and found a vibrant downtown bustling with two concurrent fairs. 
One was Oktoberfest, which celebrates the German roots of the area, and the other- Prairie Days- which recreates the rural heritage and history of the region. 
Axe Toss. (Photo A. Trimbach)
We walked up to the axe toss, where an enthusiastic teenager offered us a try. Throw it like a baseball he said. We tossed the axes into a massive wooden stump, propped up like an artist's easel. A couple stuck in, and a couple dropped to the ground. 
A fellow there dressed in clothes from another century explained that they had combined the two events, so as to increase turnout. 
By the time we had checked out some old engines, a drizzle had begun and we took shelter in a nearby cafe. The drizzle grew into a rain, and then into a storm. 
After a couple hours, the rain mostly stopped and we went to a prairie, hills of red with changing sumacs.
High Lonsome Prairie, Oct. 2012. (Photo A. Trimbach)
Arriving at Cole Camp HS, we were greeted by tens of FFA members, students decked out in the signature FFA blue corduroy jackets with yellow letters. There is a lot of pride in our country's agriculture, and we were humbled to be guests of the school and the FFA. 
The evening started with a meal. Either a steak or a hamburger. The steak was $35 and the hamburger $13. All the money went to the FFA chapters of Benton County. More than a hundred people sat in the spacious gymnasium and ate dinner together. The food was excellent, as was the conversation. 
Andy and I were seated at a table with a number of very friendly people, some of them older farmers. They taught us a lot about the way things used to be. Elizabeth mentioned that they used to milk cows by hand, and drink raw milk. They made cream, too, and then fed the whey to sows, who absolutely loved it. Alvin and another farmer were quick to agree. They'd about knock you down to get to that stuff he said with his booming voice. 
About a hundred people share a meal together and raise money for FFA in the gym at Cole Camp HS. (Photo A. Trimbach)
After a particularly loud thunderclap, the lights went out in the gym, and there was some chuckling that ensued as the generator kicked on the backup lights. 
One of the older farmers mentioned that he once grew sorghum, and I admitted to not ever having heard of it. All the older people at the table seemed quite surprised. The surprise turned to an eagerness to educate and they explained the type of crop sorghum is, how it is harvested, and how it is boiled down and used as a sweetener. They weren't sure if there was a difference between sorghum and molasses. They said It goes on pancakes and it sticks with you through the day. 
It was a good moment. There's so much knowledge that older generations have to share. Knowledge about agriculture, and about hard work. We had a couple generations lose this vital agricultural knowledge, and one of our goals for the coming generation should be to regain some of it. 
We got the film started early and most people were kind enough to stick around.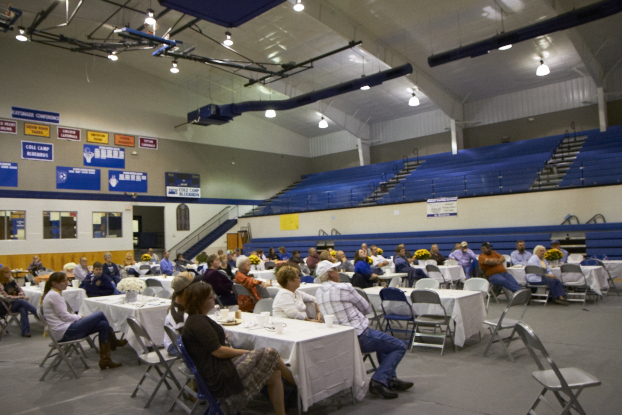 The good folks who participated in our post-screening discussion. (Photo A. Trimbach)
After, we had a good Q & A with local farmers Mark, Phil of Niman Ranch, and another fellow who raises cattle on pasture nearby. Bobbi Dittmer is the FFA AgEd instructor who set up the screening, and she was very excited about potential SAE projects, and was very kind in making such a wonderful event happen. We talked about the challenges of creating niche markets in the Midwest, and about some of the advantages and disadvantages of different types of agriculture. One thing that we all agreed on was the importance for our country to help and support young farmers. 
It was getting late, and the rain had picked up again, so we said goodbyes got in the car and drove West.
Some of the FFA members who made the evening possible. (Photo Trimbach)
Do you like this post?