Too many thoughts, meant not any sleep. We were scheduled at Genessee Valley High School at Noon, and had a 6 hour drive North. We left at 6 and made up some time, getting into the BOCES school about 15 minutes early. 
It was the last day of school before spring break which meant that some students were gone. We met Ms. Partridge just as she was dressing down a young woman for having a disorganized folder. She's a disciplinarian, and one that gets results. The BOCES schools are places where students go to learn a trade. So there's agriculture, welding, mechanics, cooking, and probably others. Students who are in rural areas get bussed out to the BOCES schools 2 or 3 days a week during their Junior and Senior years of high school. 
This school is special. They have a fully functioning farm, with pigs, ducks, goats, rabbits. They raise the animals up to slaughter, then sell the animals to the culinary program at the school. The culinary program is orchestrated by Chef Nate, who is immaculately dressed in Chef's uniform and immediately commands the respect of students, just like Ms. Partridge. 
The students actually develop the menu, and then prepare the food, some of which is raised by the students themselves, and sell it to the teachers. It's a system that is taking strides towards being self-sustaining. With a lot of agricultural regions being forced to cut FFA programs, systems like these, where the actual FFA chapter generates revenue are sure to become replicated. 
We screened the full documentary, and Chef Nate showed us the elaborate kitchen as the film ran. The 30 or so students were respectful and patient, given it was the last activity before being freed for spring break.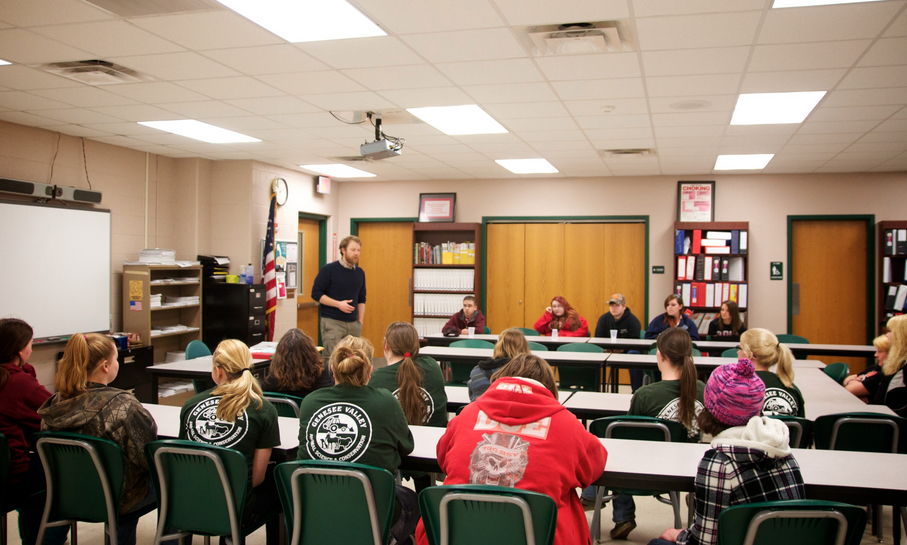 We drove West to Buffalo where the usual blizzard conditions existed. Denise and her husband Mark, are both veterans, and within the last few years decided to continue serving country, this time through agriculture. They gathered the maple sap and brought it back to the sugar shack, which is where the sap is cooked down to until it becomes a syrup. The sugar shack is a place where a lot of people in Northern regions sit around, drink beer, cook up food and hang out, waiting for the maple sap to reach the desired temperature to be strained into syrup. This requires patience, and a lot of  wood, which is usually harvested from the non-maple trees in the surrounding forest. 
Some friends came over, good folks, and talked maples, talked life, and went through some beer. 
We wrapped up the interview with Denise and said goodbye heading back East to Ithaca for a screening at Cornell. We got in as the panel started, about 70 sticking around of the 120 who were in attendance, and the conversation gravitated towards the ethics of killing and eating animals. It was a passionate conversation, with strong beliefs all around. 
Exhausted, we found a place and hunkered down.
Do you like this post?