We got up in Rum River Motel, where we'd been hosted by the generous Raj. There was about 6 inches of snow on the ground. Not a single school in the state of Minnesota had closed, or even been delayed. And there wasn't a made-up name for the snowstorm either. 
The Meskos were kind enough to have us over for breakfast, another amazing farm breakfast- ham, eggs, bagels. After, John and Lisa, and their young ones Gabrielle and Sarah took us out on a tour of the farm. We walked along the incredibly slick ground, which had melted and refrozen, panels of glare ice underneath the new snow creating a particularly slippery surface. 
We fed the steers, goats, llama, which basically meant piling hay up on the back of the pick-up, driving out to the field and unloading it into circular metal feeders where the animals could get to it, and it would be less likely to blow away.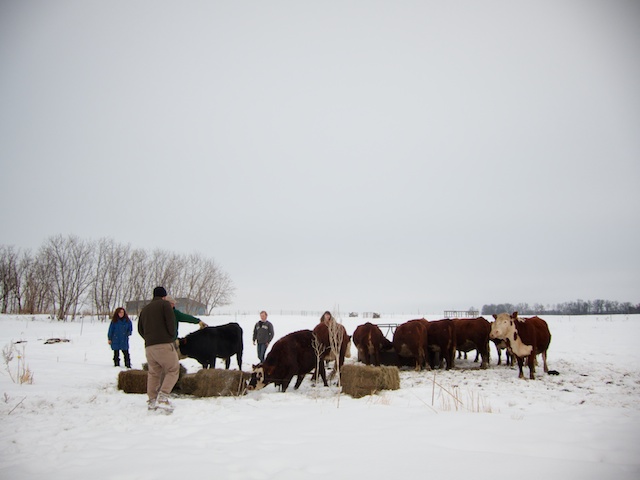 We saw the barn that had just fallen down. It's a symbol of America's agriculture, Lisa said. 
It does indeed like the barn is falling down. The small rural towns losing people, three high schools combining into one, the ride on the school bus getting longer every couple years. 
We headed out to Princeton High School, where AgEd Instructor Kristy Storbakken hosted us for two class periods. The first group of 15, the second of 10. John Mesko and daughter Sarah joined us for the firs part. We talked about how rural communities have changed. John mentioned that in the 60s and 70s every little town had a creamery, and all the farmers in the area would drive up and unload milk. They'd get a credit for the amount of milk they'd drop off, and use that credit to either buy goods, or they'd get a check each month. Milk was currency. The downtown of Princeton thrived, a number of independently owned hardware stores, newspapers, groceries, restaurants, clothing stores. Now, there's a Walmart.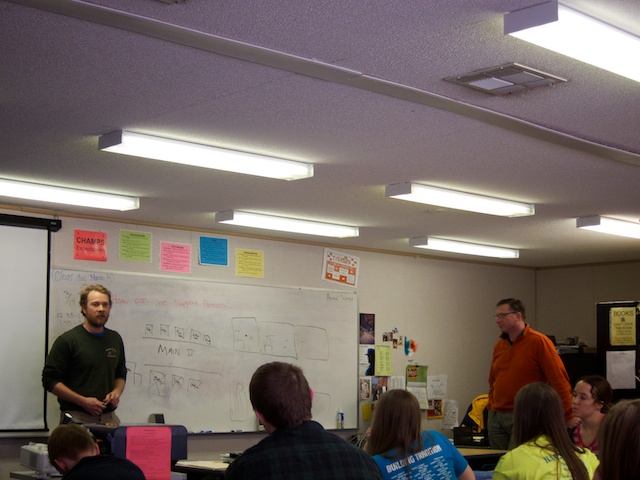 Kristy mentioned that she's itching to get back into farming, and that she feels as if the pendulum swings back and forth, and that perhaps, we're going to return to our agricultural roots. 
We drove out to St. Thomas and St. Benedictine, the two schools separated by gender have shared resources. We had lunch with John, Diane, Leroy, Jim and Matt at the cafeteria. We learned that we were competing with an event on campus that night called "Sustainable Sex", that had free beer. We figured we'd be the only ones in the theater. 
As it turned out, more than 100 students filed in, an engaged group. It may have also helped that Matt made it required for his class, a practice that I unequivocally support.  We all introduced ourselves at first, then watched the movie, then talked after. 
During the screening, Andy finished editing the portrait of Matthew Keener, and we shared it with John. You could sense his empathy for Matthew,  young man who clearly loves to farm. Honeymoon is the right term for it, John said. John and the Mesko family left a high-dollar suburban corporate life for a low-dollar rural one. They've struggled to keep the family farm alive, to earn enough money to not only pay for the farm, but to be able to grow and provide. John talked about how he's seen a number of farmers come in with whimsical enthusiasm, and leave years later without any money. It's a hard life, and there's a lot of risk. And yet, with less money, he enjoys life more. He mentioned moments in mid-winter, when he walks out to the field to feed cows hay, and it is absolute silence. All you can hear is the cows chewing the hay. There's no cars, no people, just that sound in the darkness.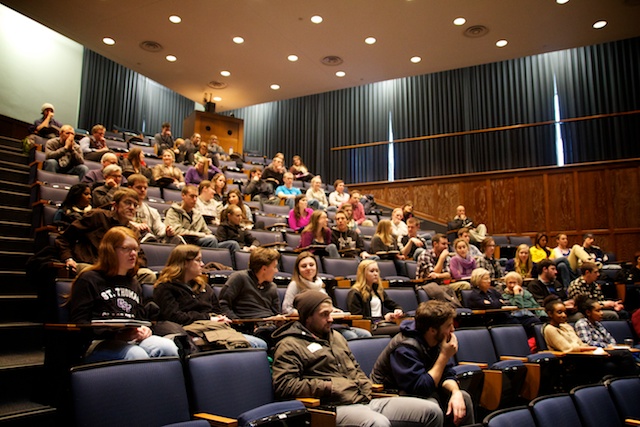 In the post-discussion, we were joined by  Kent Buell from Bon Appetit Management Co. Diane did a great job of keeping the event moving, and the questions seemed to gravitate to solutions, to what students can do to make a difference. We talked about supporting the Beginning Farmers and Ranchers Act, about the need for innovation, for youthful enthusiasm. We need 1,000 Joel Salatins, said John. Kent talked about the importance of cooking food, Diane about whether or not we should eat so much meat. Jim talked about leaving a corporate life to farm, a decision he wish he'd done earlier, although it was the capital from the desk job that paid for the farm.
After, we talked to a young farmer who grew up on a conventional dairy, and appreciated the balance of the conversation. 
We drove out to New Ulm, near to Butterfield for the morning's shoot.
Do you like this post?
---
Graham Meriwether
commented
2013-03-20 23:19:00 -0400 · Flag
Thanks John! Great breakfast, great to spend some time with you and your family! Thanks for farming, and for supporting farmers.