Woke up in Wisconsin, drove West and North through Madison for lunch at Alchemy, and on up to the University of Minnesota. 
The screening, set up by the kind Helene Murray of MISA (Minnesota Institute of Sustainable Agriculture) was hosted at the Bell Museum on the University of Minnesota campus, a beautiful venue. Chipotle and Mike served up burritos, and people ate and looked at the displays of the museum.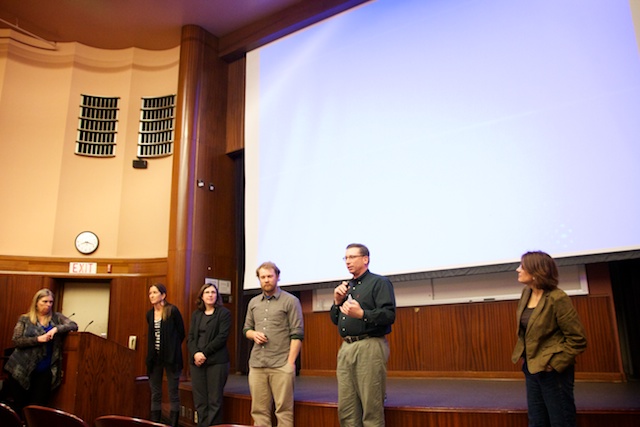 About 125 folks sat down together, most of them community members, as we had the misfortune of being on campus during the last days of midterms before spring break, meaning most of the students had either skipped town, or still had to study for a test. 
The resulting conversation was really wonderful, and what we may have been missing in numbers was more than made up for in passion, and insight. 
John Mesko talked about how he got into farming, about the decision to make less money, but to live what they deemed a more fulfilling life. He gave an example, that this past weekend, the family barn, which he had just told his daughter would stand for about 10 more years, came crashing down. They didn't have the money to maintain it, and they sure don't have the money to buy the materials, or the sheer people power to rebuild it. 
A bold fellow in the audience talked about how when he was in an Amish community, a barn went down, and everyone in the community worked together to put it back up. Women and children cooked food in shifts, and the men worked and worked until it was back up. 
Our culture, and our agriculture has become very isolated. People are often sealed off in personal spaces, like cars, or cubicles, or GPS tractors. John mentioned that his closest neighbor is barely visible, and that their barn had fallen down, too. The problem is, in much of our rural communities, neighbors are stretched so far a part, because the only way that a farm can be viable, is to get more acres to put into corn and soy. The result is neighbors are miles apart, and schools consolidate, and main streets in rural America become shuttered storefronts, distant memories of a once thriving community. 
A young woman in the front row is starting a CSA, and she wanted help. We all told her of different organizations and different farmers to talk to for support. The truth is, that whatever agriculture that we develop in this country, whatever culture we develop, we need it to become a culture of community, of collective commitment. Our old ideas of a rugged individualist, are indeed of value, and much can be learned from one person going it alone. However, to make sustainable, resilient systems, we need to have regional systems that are built on strong rural communities, places where people are able to know their neighbors, places where when a barn falls down, people come together to help that farm rebuild and heal. 
Driving North to Princeton, we talked about how it would be cool if everyone at tonights screening, went to John's farm this summer, and helped their family rebuild. Perhaps the greatest test of a community, is what happens when a piece of it, or a person within it, faces hard times.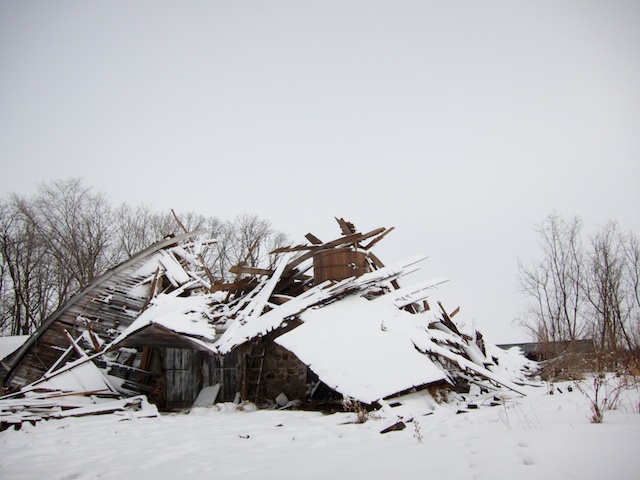 Do you like this post?