We left the home of our kind hosts Andrew and Renee about 7 or so and headed South and East to Elgin. Elgin is a town of about 10,000 located within a 20 minute drive of Austin. 
We met Bekki and Mike, who've recently left a career in town, at a desk, to start farming. They bought some land in Elgin, and decided to try a hand at farming. They first purchased land in spring of 2011, at which point the worst recorded drought in Texas history hit, rendering their initial efforts futile. They've been gaining knowledge at the frenzied pace of beginners, and yet, one cannot learn in a couple years, what another has spent a lifetime knowing. 
So Bekki, with a marketing background, and Mike, with a business background, decided they wanted help with the agricultural aspect of a farm. They recently hired the 29 year old Montana, who grew up in Amarillo, TX and has been farming for 29 years. 
We spent most of the morning with Montana, filming as he filled wood flats with dirt, where he'd be starting seeds later in the day. He talked to the chickens, cattle, and donkeys as he worked, sometimes breaking into song although he held back because of the camera.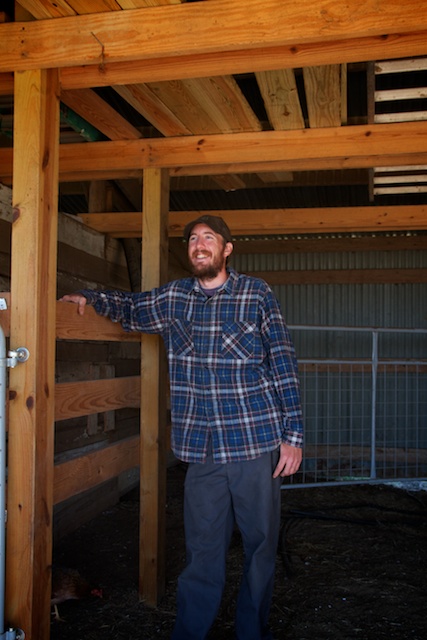 A tall fellow with long hair and a rugged beard, he walked from the barn and out to the main vegetable field where he hand weeded a couple of rows of vegetables. There's a bit of a nutgrass problem, and he used a combination of hoe and hand to remove it when possible. Seeds had been planted a couple of weeks back, and the first sprouts of lettuce, chard, broccoli and other vegetables are beginning to announce themselves above ground. 
After weeding, he watered, dragging the slightly tangled hose out to the field and then proudly using the brand new fireman's nozzle to arc the water into a simulated rainfall on the plants below. He has recently moved back to Texas after working on a farm in Mississippi, where he helped grow a CSA from 37 members to 85 or so in one season. The growth resulted from person to person conversations, a simple conversation about where a person purchases vegetables, that then results in a relationship in which people pay farmers upfront for food grown in their local community by people they know and grow to trust over years. 
We carried three 5-gallon buckets out to the barn where we conducted the interview. Montana became a bit different when the camera was right there, in front of his face, an intimidating proposition for most anybody, especially one whose days are currently spent  in the solitude of winter preparation.
 After a couple questions,  Montana found comfort and began to speak about his agricultural heritage, about the path that led him to where he is today. He grew up on a large farm near Amarillo where the family raises corn, among other crops. In recent years, they decided to go with genetically modified crops. These crops have had their genetic material altered so that they will be more resistant to drought, and most recently, so that they can be sprayed with a pesticide called Round Up. There are some advantages to this type of farming. It requires less work, less manual labor, and in some instances, crops may fare better in one particular season. There was one downside, to this type of agriculture, that led Montana to leave the family farm and strike out on his own. He's a single father, and has a three year old daughter. When you're working on a farm that sprays the Round Up pesticide, farmers are recommended to decontaminate themselves from the strong chemicals they've been exposed to. This decontamination process made Montana think. If he had to prepare himself to leave a field just so he could then spend time with his family, was this a healthy farm for him and his family to be exposed to on a daily basis.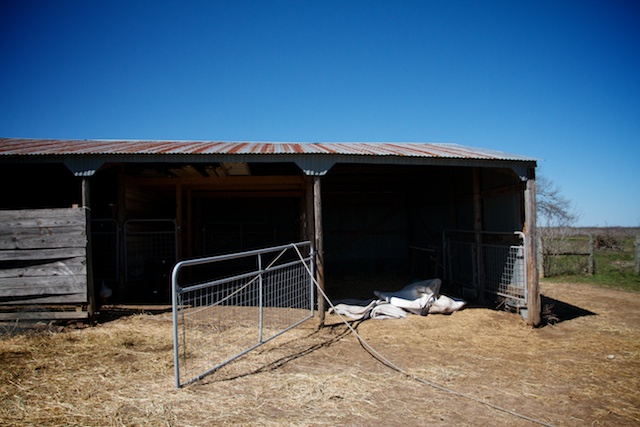 Montana decided that he could not be a part of a farm where he could not walk hand-in-hand with his three year old daughter. 
Today, he works on a farm where he can walk hand-in-hand with his daughter, where no pesticides are sprayed, and where weeds are pulled by hand, by hoe, or perhaps with a roto-tiller. Every CSA member we sign up, every seed we plant we're helping to transform our agriculture, to eliminate the need for a McDonald's or a Wal-Mart, he said. 
My health care is the food I eat, the actions I choose to make with my body, working outside with my hands in a place that is physically and spiritually healing, he said. 
We said goodbyes and thankyous and headed into Austin for lunch at Casa de Luz with Susan and Jenny. Susan, my girlfriend, flew in for the weekend. Casa de Luz is a restaurant where you don't get to choose what you eat, you pay $12/person and they serve you the seasonal food of the day. It was excellent. 
From there, we went to Green Gate Farms, where we participated in "weed dating." This  is similar to what is called a crop mob, where a bunch of people from the community go out to a farm and help get a lot of work done at once. This one, as the name indicates, was somewhat focused on people meeting people. 
Erin talked about the history of their farm, and about the docile black pigs- Guineas- that sat lazily on the dirt of the farm. They were much more gentle than any other pig we've come across, allowing anyone to pet and touch, and never biting- which is how most breeds of pigs say hello. 
After weeding- we all had tea and beer and cheese and talked. The night ended with country two-step dancing at a nearby honky-tonk called the Broken Spoke. A wonder full Austin Texas day. 
Do you like this post?